Welcome to the Town of Avon,
New York ...


Here you will find accurate and easy-to-use information on
Town services and programs.
We invite you to explore all our community has to offer!
NOTICE OF FILING
TENTATIVE ASSESSMENT ROLL
(Pursuant to Section 506 of the Real Property Tax Law)

Notice is hereby given that the Assessor has completed the TENTATIVE Assessment Roll for the Town of Avon in the County of Livingston for the year 2017. The Roll will be filed May 1, 2017 and may be seen and examined by any person until the fourth of May.
The Board of Assessment Review will meet to hear complaints at The Avon Town Hall located at 27 Genesee Street, Avon, NY (floor 2S/Boardroom) on Wednesday, May 24, 2017 from 4:00-8:00pm. Grievance forms are available in the Assessor's office.
The Assessor will be in attendance with the roll at The Avon Assessor's Office located at 27 Genesee Street, 2S Floor, Avon, NY, on Saturday,May 6 from 10:30-12:30; Wednesday, May 10 from 6:00-8:00pm; Tuesday, May 9 & 16 from 9:30-12:000 and 1:30 to 3:00. Please call 585-22-2425 ext 16 or 17 if you wish to make an appointment during those times.
In accordance with Section 526 of the Real Property Tax Law, a publication containing procedures for contesting an assessment is available at the Assessor's Office.
Tami Snyder
Assessor Town of Avon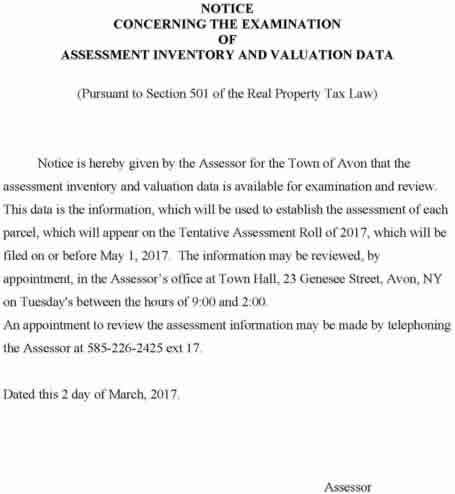 THE TOWN OF AVON
WATER DEPARTMENT

has a new billing system effective with the February 2017 bill cycle. This new billing system will allow TOWN water customers to both receive their bills via e-mail and also to pay water bills on line - via bank account or credit card. There is an extra fee for credit card payments charged by the credit card processing company. We are hoping that this new water billing system will allow more convenience for our water customers while still continuing to providing the same high level of personal service that we always have offered.
If need further information please email mblye@avon-ny.org or call Mary Blye at 585-226-2425 ext. 12.
LEGAL NOTICE
TOWN OF AVON
All regular meetings of the Avon Town Board throughout the year 2017 will be held at 6:00 P.M. on the following days (generally the second and fourth Thursday of each month) in the Avon Opera Block/Town Hall Building located at 23 Genesee Street, Avon, New York
1/12, 1/26, 2/9, 2/23, 3/9, 3/23, 4/13, 4/27, 5/11, 5/25, 6/8, 6/22, 7/13, 7/27, 8/10, 8/24, 9/7, 9/21, 10/12, 10/26, 11/9, 11/30, 12/14, 12/28
Sharon M. Knight CMC/RMC, Avon Town Clerk
LEGAL NOTICE
TOWN OF AVON
TAX COLLECTOR'S NOTICE
Please take notice that I, Sharon M. Knight, MMC/RMC, the undersigned Collector of Taxes of the Town of Avon, County of Livingston, State of New York, have duly received the tax roll and warrant for the collection of taxes within the Town of Avon for the year 2017.

In person payments can be made at the Town Clerk's Office, 23 Genesee St. Avon, NY 14414 beginning January 3, 2017 or in our drop box beginning December 31, 2016. Mail payments to: Town of Avon, 23 Genesee Street, Avon, New York 14414. Taxpayers may also view, print, and/or pay their bill on the Town's web site ... Click Here
Take further notice that taxes may be paid on or before January 31, 2017, without charge or interest. On all taxes received after such date, there shall be added interest of 1% for February and 2% for March.
Pursuant to Section 987 of the Real Property Tax Law, a delinquent notice will be mailed on or after the 31st day following the expiration of the period on interest-free payment of taxes (March 3, 2017). The law mandates that the expenses of the mailing such notice shall be an additional penalty of two dollars ($2) against the Parcel.
Take further notice, that pursuant to the provisions of the law, the tax roll of the Town of Avon will be returned to the County Treasurer of Livingston County on a date in early April 2017.
Sharon M. Knight, MMC/RMC
TOWN CLERK/TAX COLLECTOR
Town of Avon
LEGAL NOTICE
TOWN OF AVON
The Avon Town Board has resolved to open the South Avon Cemetery for cremations only. Sites are available for purchase on a first come first serve basis beginning the 15th of October.

Plot sizes are 4 x 4 the cost is $625.00 and they can be purchased in the Avon Supervisor's Secretary Office Monday through Thursday 11:00 AM - 12:30 PM And 1:30 PM - 4:00 PM, 23 Genesee Street, Avon, New York.
Sharon M. Knight CMC/RMC, Avon Town Clerk